Background
The Beit Dagan base is an abandoned military camp, which spreads over 75 dunams. The site is north of the Beit Dagan intersection, bordering road 412 to the south, road 44 on the west and…
The Beit Dagan base is an abandoned military camp, which spreads over 75 dunams. The site is north of the Beit Dagan intersection, bordering road 412 to the south, road 44 on the west and Mishmar Hashiva to the north and east.
The entrance gate to the site is located on road 412, about 500 meters north of Beit Dagan Junction. The height of the surface within the boundaries of the site is about 30 meters and is mostly planar. The land plot is largely paved with concrete and asphalt surfaces, on the surfaces there are hangars and abandoned workshops that operated in the camp in the past.
Throughout the site there is a considerable amount of construction waste that has been dumped since the camp was abandoned in 1999. Around the semi-demolished buildings of the base workshops and concrete surfaces there is herbaceous vegetation that has grown wild over the years.
The base area contains 35 concrete and block structures. The main building in the area is a building that was erected in 1945 and served as an Engine room since 1948. The Engine room structure operated until the site was abandoned in 1999. Among the other main buildings in the camp: the dynamometer buildings, a Framework, a dining room, a machining center, Coloring and Coating, Engine Disassembly and Warehousing Depart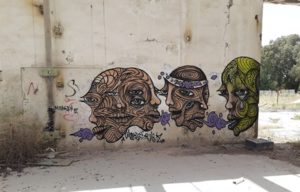 ment.
ID Card
Location:
Central District, close to Rishon LeZion. The site is north of the Beit Dagan intersection, bordering road 412 to the south, road 44 on the west and Mishmar Hashiva to the north and east
Plan area:
About 75 dunams
Land ownership:
Abandoned military camp
Evacuation:
The military camp was evacuated in 1999
Environmental issues:
There are about 35 cement structures and blocks in the former base area; wild weeds grew around the semi-destructed buildings throughout the years. A considerable amount of building and construction waste has been dumped on site since the military camp was abandoned
Progress Bar
1

Historical Survey

2

Soil Survey

3

Risk Assessment

4

Remediation Alternatives

5

Remediation Activities

6

Verification Survey

7

NFA
Gallery